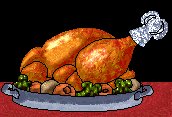 Roasting Poultry
The "trick" to the best roasted birds is the amount of time you spend basting it and (of course) cooking it until it is done.
No amount of over basting can be done unless you constantly have the oven door open and the bird never gets to cook LOL.
Besides brushing my birds with melted butter or margarine, I add 1/4 - 1/2 a cup (depending on whether I am roasting a chicken or a turkey) to the bottom of the roasting pan for basting.
I have never roasted a dry tasting or inedible bird. My sister even owns pics (bless her morbid heart) of a roasted chicken's skeleton that she and I cleaned to the bone one afternoon in Hawaii lol.

Before stuffing your bird, remove the giblets and rinse the cavity.
Rub cavity of bird lightly with salt if you do not plan to stuff it.
Tuck the wings behind the back. Tuck the legs under the band of skin at the tail or tie or skewer them to the tail.
Place the bird breast side up on a rack in a shallow roasting pan and brush with melted butter or margarine.
Place a meat thermometer in in the thickest part of the thigh muscle so that it does not touch the bone.
Roast until the thermometer reads 180 degrees and the legs move easily when lifted or twisted, basting every 20 to 30 minutes without fail.
For turkey, place a tent of aluminum foil loosely over the turkey just when the skin turns golden.
When it is two-thirds done, loosen the legs from their bindings.
Let stand 15 minutes before carving.

Store leftovers in the refrigerator within two hours after cooking, wrapping or covering tightly and making sure to store the poultry, stuffing and gravies in separate containers.
Do not store cooked poultry in the refrigerator longer than two days.
Heat leftovers thoroughly and cover when reheating to retain moisture (add a couple of tsp water to pan if needed if it starts to dry out to steam it back to a moist and edible condition)

Freezing leftovers: Covered as air tightly as possible in heavy duty freezer-plastic or heavy duty aluminum foil, cooked chicken or turkey can be frozen for 1 month.
Bread Stuffing & Tasty Variations
3/4 cup butter or margarine
2 large stalks celery (with leaves) chopped
3/4 cup finely chopped onion
1/2 tsp dried thyme or 1 & 1/2 tsp fresh chopped thyme
3/4 tsp salt
1/4 tsp pepper
1/2 tsp ground sage
9 cups soft bread cubes (day-old bread works best)

Melt butter or margarine in heavy skillet over medium-high heat. Cook celery and onion in melted butter until tender, stirring occasionally and remove from heat
Mix spices together in a large bowl and pour cooked celery, onions and butter into it when they are done.
Stir and then add the bread cubes, stirring and tossing until they are evenly coated.
Makes enough stuffing to stuff a 20 lb turkey.

Corn bread stuffing: Replace corn bread for bread cubes
Mushroom stuffing: Cook 2 cups (6 ounces) chopped mushrooms with celery and onion.
Oyster stuffing: Add 2 8-ounce cans or 2 cups fresh, drained and chopped oysters to spices, celery & onion and stir before adding bread.
Apple-Raisin stuffing: Increase salt to 1 & 1/4 tsp. Add 3 cups finely chopped apples and 3/4 cup raisins to coated bread cubes.

Allow 1/2 cup of stuffing per pound of poultry and stuff poultry just before cooking. (Make sure you have removed the giblets they package in the cavity!)
Allow some room for the stuffing to expand. Stuffing temperature inside the cooked bird should be at least 165 degrees.
Extra stuffing can be covered and refrigerated, then cooked in a greased casserole dish, alongside the roasting bird for the last 45 minutes of the bird's cooking time, leaving it in the oven while you let the bird stand before carving.
Always promptly remove the stuffing from the cooked bird.
Store leftover stuffing in shallow (1-to-1 & 1/2 inch deep) containers in the refrigerator.
This recipe can be halved for stuffing whole chicken. :)