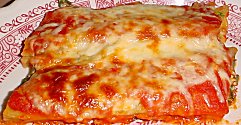 Eat Your Spinach and love it!
Stuffed Manicotti Shells
1 8oz pkg manicotti shells
1 small onion, chopped (1/4 c)
2 chicken bouillon cubes, crushed
2 cloves garlic, crushed or 1/2 tsp garlic powder
1/8 tsp thyme
1/4 c grated Parmesan cheese
2 eggs
1 and 1/2 c cottage cheese (large or small curd)
8-10 oz fresh spinach, washed and chopped
1 8oz can tomato sauce
1 c (about 4 oz) shredded mozzarella cheese
Preheat oven to 350║ degrees.
Cook manicotti shells as per package instructions.
While shells are cooking, mix onion, chicken bouillon , garlic, thyme, Parmesan cheese, and eggs.
Stir in cottage cheese; stir in chopped spinach. Set aside.
When shells are done, drain and set onto a sheet aluminum foil so that they don't touch each other (this keeps them from sticking together).
Fill shells* with spinach mixture and arrange in greased 9 x 13 x 2 pan.
Pour tomato sauce over shells and sprinkle with shredded mozzarella cheese.
Bake at 350║ until hot and bubbly; 25 minutes.
*An easy way to fill the shells without tearing them or making a mess is to put the filling into a plastic baggie with a small portion of one corner cut off or into an icing bag...hold a shell in one hand, the bag in the other, place the bag opening into the shell opening and just squeeze, and fill.

Meat Sauce For Spaghetti

1/4 c olive or vegetable oil (olive oil produces a better flavor in the end product)
1 clove garlic, minced
1 large onion, chopped (1 cup)
1 lb ground beef
1 tablespoon flour
3/4 c dry red wine
4-6 mushrooms, washed and chopped
1 14oz can peeled tomatoes
1 6oz can tomato paste
1 cup beef bouillon (1 cube dissolved in 1 cup boiling water)
1 tsp salt
1/4 tsp black pepper
1 bay leaf, whole
1 tsp crushed basil
1 T oregano
1 T snipped or dried parsley
a pinch of rosemary

Heat oil in a large skillet on med-high heat; sautÚ┤ garlic and onion until golden.
Toss beef with flour and add to onions and garlic; cook until light brown; drain.
Add wine and cook over high heat 2-3 minutes, stirring constantly.
Add mushrooms, tomatoes, tomato paste and bouillon. Stir well.
Stir in salt, pepper, bay leaf, basil, oregano, parsley, and rosemary.
Lower heat to simmer and allow to simmer for 1 and 1/2 hours.
Remove bay leaf prior to serving.
Yield: 5 1/2 cups of delicious sauce for your favorite spaghetti or pasta.
Serve with a fresh garden salad and garlic bread.